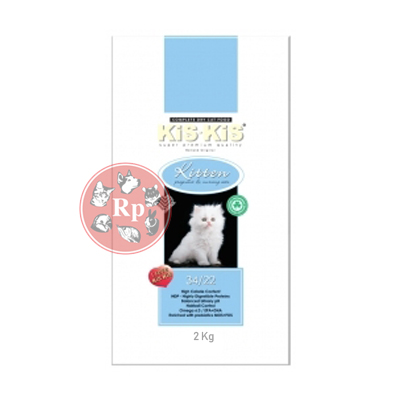 CAT FOOD KIS-KIS KITTEN S 2 KG
Rp. 170,000
CAT FOOD KIS-KIS KITTEN S 2 KG
SUPER PREMIUM QUALITY
PROTEIN = 34% & FAT = 22%
KiS-KiS KITTEN di formulasikan secara khusus oleh para ahli gizi hewan dari Belanda untuk kucing anakan, hamil dan menyusui dengan kualitas Super Premium yang diakui secara Internasional. Dilengkapi dengan Urinary pH Control, Hairball Control, EPA+DHA, Prebiotic (FOS+MOS), High Digestible Protein, Anti Oksidan, dan Odour Control.
Composition:
Dehydrated poultry meat, extracted animal protein, broken rice, animal fat (poultry and beef), corn, wheat, corngluten, barley, dehydrated beet pulp, whole egg powder, hydrolysed chicken liver, brewers dehydrated yeast extract (source of mannan-oligosaccharides (MOS)), fish oil (salmon), minerals (potassium chloride, monocalcium phosphate), inulin (source of fructo-oligosaccharides (FOS)), purified vegetable fiber (cellulose).
**** With oxidation reducing substance tocopherol-rich extract of natural origin (Vitamin E) and preservatives citric acid, calcium propionate and sorbic acid, permitted by the EU.
Analytical constituents :
Protein 34%
Fat 22%
Fibre 2%
Moisture 8%
Energy value: 4366 Kcal/kg
pH urinary = ca 6,5
NUTRISI :
Vitamin A, D3, E, K3, B1, B2, B6, B12, C
Biotin
Choline chloride
Folic acid
Ca. pantothenate
View Count: 1,202