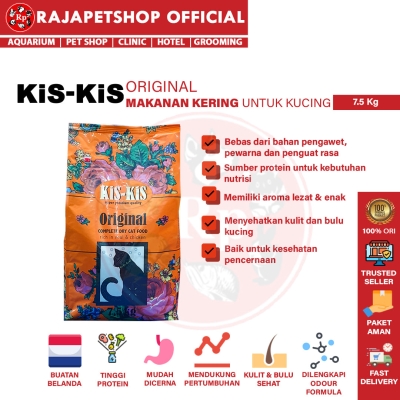 CAT FOOD KIS-KIS ORIGINAL L 7.5 KG
Rp. 450,000
CAT FOOD KIS-KIS ORIGINAL 7.5 KG
PROTEIN : 30 % & FAT : 18 %

INFO PRODUK :
Kualitas "Super Premium"
Untuk Semua Jenis Kucing Dewasa dari Semua Trah
Kandungan Energi : 3.926 Kcal/kg
pH urinary : ca 6,9

KANDUNGAN :
Urinary pH control
Hairball control
Ideal weight maintenance
Supports heart function
OMEGA 6:3 / EPA+DHA
H.D.P. / Highly digestible proteins
Enriched with prebiotics (FOS+MOS)
Natural antioxidant mixture
Odour Control
Moisture level 8%

MANFAAT :
Sangat Lezat dengan tingkat penerimaan yang tinggi
Memberikan asupan vitamin dan mineral yang seimbang
Membuat kualitas bulu dan kulit yang sehat dan mengkilat
HDP kualitas protein tinggi yang mudah dicerna
Mengurangi resiko gejala batu ginjal pada kandung kemih
Mempunyai zat anti bau yang dapat menghilangkan bau kotoran
Komposisi :
Cereals, meat and meat products, derivatives of vegetable origin, oils and fats, fish (herring) and fish products (herring), minerals.
**With oxidation reducing substance tocopherol-rich extract of natural origin (Vitamin E) and preservatives citric acid, calcium propionate and sorbic acid, permitted by the EU.

Analisa Produk :
Moisture : 8%
Protein : 30%
Fat : 14%
Fibre : 2,5%

Nutrisi :
Vitamin A, D3, E, K3, B1, B2, B6, B12, C
Biotin
Choline chloride
Folic acid
Ca. pantothenate
View Count: 1,180