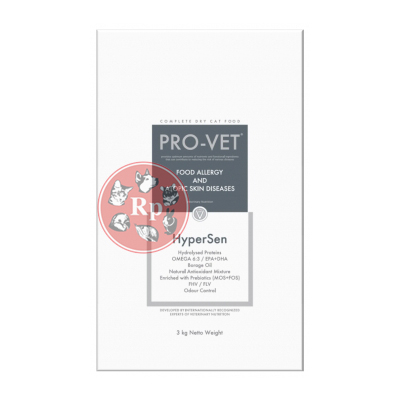 CAT FOOD PRO-VET HYPERSEN 3 KG
Rp. 470,000
PRO-VET HYPERSEN 3 KG
PROTEIN: 32% & FAT: 20%
DIREKOMENDASIKAN UNTUK KUCING DEWASA YANG MENGALAMI ALERGI MAKANAN DAN PENYAKIT KULIT ATOPIK
Makanan kucing yang diformulasikan khusus oleh ahli gizi dari Belanda dan telah diakui secara internasional. Kaya akan nutrisi yang lengkap dan Seimbang. Terbuat dari bahan baku yang mampu membantu kucing anda mengatasi permasalahan Hypersensitive pada makanan, serta mengurangi resiko penyakit Atopy (Allergic Dermatitis).
INFORMASI PRODUK:
Mengandung Borage oil sebagai Anti-inflamasi
Protein yang telah ter-hidrolisis
Kaya serat dengan viskositas tinggi ( FHV ) Mengurangi resiko diabetes mellitus dan pembentukan hairball . Merangsang motilitas usus dan kemajuan kotoran konsistensi.
Kaya serat dengan viskositas rendah ( FLV ) Merangsang motilitas usus dan mengontrol pembentukan hairball .
Menghilangkan pembentukan bau oleh kotoran
Prebiotik untuk kesehatan pencernaan
fructo – oligosakarida (FOS) Mendukung pertumbuhan bakteri menguntungkan dalam usus . Melindungi usus terhadap bakteri patogen
Pengontrol pH Urine
EPA + DHA
Mengandung antioksidan alami
Rendah fosfor ("Loweres") mengurangi resiko "gagal ginjal" .
KOMPOSISI:
Rice, hydrolysed fish protein, potato protein, animal fat, fish oil (salmon), dried beet pulp, potato starch, minerals, hydrolysed chicken liver, purified vegetable fiber (cellulose), mannan-oligosaccharides, borage seed oil, lineseed oil, inulin (source of fructo-oligosaccharides).
**With oxidation reducing substance tocopherol-rich extract of natural originl (vitamin E).
ANALISA PRODUK:
Kelembapan : 8%
Protein : 32%
Lemak : 20%
Ash : 5.30%
Serat : 2.50%
Calcium (Ca) : 0.6%
Phosphorus (P): 0.6%
Sodium (Na): 3.6 gr
Magnesium (Mg): 0.6 gr
Potassium: 6.0 gr
Lysine: 20 gr
Methionine: 8.0 gr
Cystine: 3.9 gr
Treonine: 14.6 gr
Tryptophan: 3.4 gr
Linoleic acid (ω6): 19 gr
Linolenic acid (ω3): 4 gr
Arachidonic acid (ω3): 0.6 gr
EPA (ω3): 5.0 gr eicosapentaenoic acid
DHA (ω3): 5.0 gr docosahexaenoic acid
Carbohydrates: 32,2%
View Count: 1,284