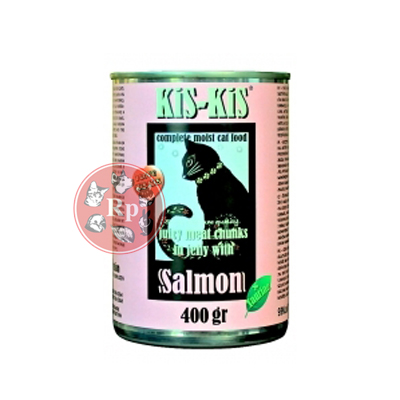 CAT FOOD KIS - KIS CANNED SALMON 400GR
Rp. 20,000
CAT FOOD KIS - KIS CANNED FOOD SALMON 400 GR
SUPER PREMIUM QUALITY
PROTEIN 8,0% FAT 5,0%
JUICY MEAT CHUNKS
KiS-KiS CANNED SALMON merupakan makanan basah dengan nutrisi lengkap. Terbuat dari daging Salmon pilihan, direkomendasikan khusus untuk semua jenis kucing. Tanpa menggunakan pengawet. Dilengkapi dengan Vitamin D3 yang baik untuk kesehatan persendian. Serta diperkaya dengan taurin sebagai nutrisi untuk kesehatan otot, syaraf dan jantung kucing kesayangan anda. Tanpa menggunakan pengawet buatan dan kedelai (no soy).
Composition :
Meat and Animal Derivatives,Fish and Fish Derivatives (Salmon 4%), Derivatives of Vegetable origin, Cereals, Vitamins & Minerals, Various Sugars.
Analytical Constituents :
Protein 8,0%
Fat 5,0%
Ash 3%
Fibre 0,4%
Moisture 80%
NUTRITIONAL ADDITIVES/KG
Vitamin A 5.300 IU
Vitamin D3 530 IU
Vitamin E 7,59mg
Taurin 265 mg
Calcium Iodide 0,84mg
Manganese Sulphate 16,5mg
Sodium Selenite 1,18mg
Ferrous 1,18mg
Zinc Sulphate Monohydrated 151,4mg
Store the can, once opened, in the refrigerator. Serve the food at room temperature.
View Count: 1,166