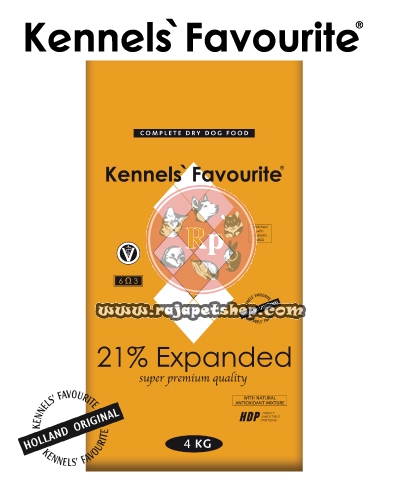 DOG FOOD KENNELS\' FAVOURITE 21 EXPANDED 4KG
Rp. 200,000
DOG FOOD KENNELS' FAVOURITE 21% EXPANDED 4 KG
PROTEIN : 21% FAT : 7.5%
Super Premium Quality
21% EXPANDED merupakan makanan Super Premium yang direkomendasikan khusus untuk anjing yang mengalami masalah kelebihan berat badan, aktifitas rendah dan Indoor. Dapat digunakan untuk semua jenis anjing. Dengan kandungan protein dan lemak yang rendah dapat membantu menurunkan berat badan, sehingga dapat mengurangi resiko penyakit kanker, diabetes, radang persendian dan gagal jantung. Dapat digunakan untuk anjing betina yang kegemukan, baik pada masa menyusui atau setelah masa menyusui. Mengandung Omega 3 & 6, Low Energy Value, Enriched with prebiotic FOS + MOS, H.D.P. / Highly Digestible Proteins, Natural Anti-oxidant Mixture, Odour Control, dan Moisture Level 8%.
Composition :
wheat, wheat grits (semolina), meat meal (beef), rice bran, extracted animal protein (tallow), animal fat (poultry), brewers dehydrated yeast extract (source of mannan oligosaccharides (MOS)), minerals (sodium chloride), mannan oligosaccharides (MOS), hydrolysed chicken liver, inulin (source of fructo oligosaccharides (FOS)).
**** With oxidation reducing substance tocopherol-rich extract of natural origin (Vitamin E) and preservatives citric acid, calcium propionate and sorbic acid, permitted by the EU.
Analytical constituents :
Protein 21,00%
Fat 7,50%
Fibre 4,00%
Moisture 8,00%
Calcium 1,50%
Phosporus 1,20%
Folic Acid 1,31mg
Energy value 3478 Kcal/kg
View Count: 1,188