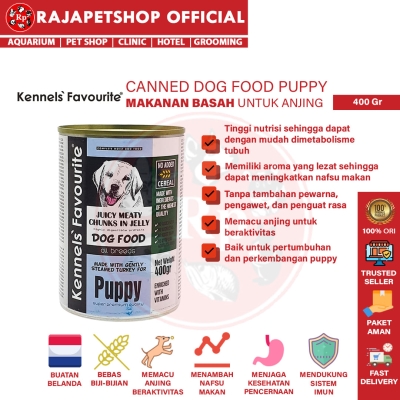 DOG FOOD KENNELS' FAVOURITE CANNED FOOD FOR PUPPY 415 GR
Rp. 20,000
DOG FOOD KENNELS' FAVOURITE CANNED FOOD FOR PUPPY 415 GR
PROTEIN: 7 % & FAT : 4 %
JUICY MEAT CHUNKS
Kennel's Favourite Canned for PUPPY merupakan makanan basah yang terbuat dari daging ayam pilihan khusus untuk puppy. Tanpa menggunakan pengawet, kedelai (no soy), gula (no sugar) dan Caramel. Dilengkapi dengan Taurin, Biotin, Vitamin E, Vitamin B-Complex.
Composition:
Meat, Wheat, Whole grain, Vegetable Protein Extract, Vitamins, Minerals.
Aditif / kg:
Vitamin A 1.600 IE
Vitamin D3 330 IE
Vitamin E 10 mg
Vitamin B1 0.80 mg
Vitamin B2 0.48 mg
Vitamin B12 6.40 mg
Vitamin B6 0.56 mg
Calcium (Ca) 0.25 %
Phosphorus (P) 0.20 %
Sodium (Na) 0.30 %
Iron (Fe) 8.50 mg
Manganese (Mn) 0.75 mg
Zinc (Zn) 7.25 mg
Iodine (I) 0.20 mg
Selenium (Se) 0.02 mg
Taurine 200 mcg
Biotin 20 mcg

Analisa produk:
Protein 7 %
Fat 4,0 %
Ash 1,5%
Fiber 3,0%
Moisture 80%
Store the can, once opened, in the refrigerator. Serve the food at room temperature.
View Count: 1,129