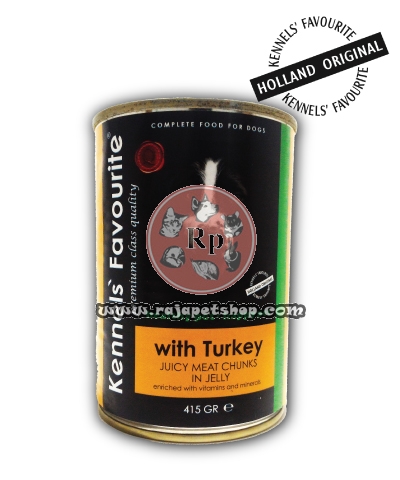 DOG FOOD KENNELS' FAVOURITE CANNED FOOD TURKEY 415 GR
Rp. 20,000
DOG FOOD KENNELS' FAVOURITE CANNED FOOD TURKEY 415 GR

PROTEIN : 7 % & FAT : 4%
JUICY MEAT CHUNKS
Kennel's Favourite Canned with TURKEY merupakan makanan basah yang terbuat dari daging kalkun pilihan. Tanpa menggunakan pengawet, kedelai (no soy). Dilengkapi dengan Taurin, Biotin, Vitamin E, Vitamin B-Complex.
Composition:
Meat and Animal Derivatives (Turkey 4%), Cereals, Minerals, Vegetables By-Product, Sugar.
Aditif / kg:
vitamin A 1.600 IE
vitamin D 3330 IE
vitamin E 10 mg
vitamin B1 0,80 mg
vitamin B2 0,48 mg
vitamin B12 6.40 mg
vitamin B6 0.56 mg
Kalsium (Ca) 0,25%
Fosfor (P) 0,20%
Natrium (Na) 0,30%
Besi (Fe) 8,50 mg
Mangan (Mn) 0,75 mg
Seng (Zn) 7,25 mg
Yodium (I) 0,20 mg
Selenium (Se) 0,02 mg
taurin 200 mcg
Biotin 20 mcg
Analisa Produk:
Protein 7,0%
Fat 4%
Ash 2,0%
Fiber 0,3%
Moisture 82%
Store the can, once opened, in the refrigerator. Serve the food at room temperature.
View Count: 1,101