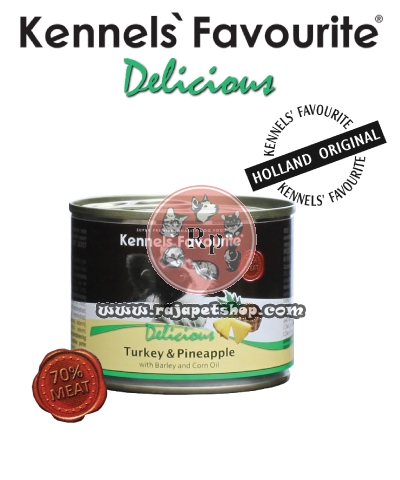 DOG FOOD KENNELS' FAVOURITE DELICIOUS TURKEY & PINEAPPLE
Rp. 30,000
DOG FOOD KENNELS' FAVOURITE DELICIOUS TURKEY & PINEAPPLE 200 GR
PROTEIN: 11,1% & FAT: 6,8%
SUPER PREMIUM QUALITY
TURKEY & PINAPPLE Makanan anjing dengan kualitas Super Premium. Terbuat dari 70 % daging kalkun dipadukan dengan buah Nanas Segar, Corn Oil serta Barley. Diproses dengan cara dikukus (steamed) untuk menjaga kandungan nutrisi yang terkandung didalamnya. Dilengkapi dengan vitamin E dan Biotin untuk kesehatan kulit dan bulu anjing anda. No Soya, No Preservatives, No Sugar and No Caramel added.
Composition :
turkey meat 70%, chicken broth, cereals (barley), fruits (minimum 3% pineapple), minerals, oils and fats (corn oil 0.5%).
Analytical constituents :
Protein 11,10%
Fat 6,8%
Fibre 0,4%
Ash 2,0%
Moisture 75%
Energy value 110,4 Kcal/100gr
Daily portion: 200g per 10kg of body weight.
Store the can, once opened, in the refrigerator. Serve the food at room temperature.
View Count: 1,125