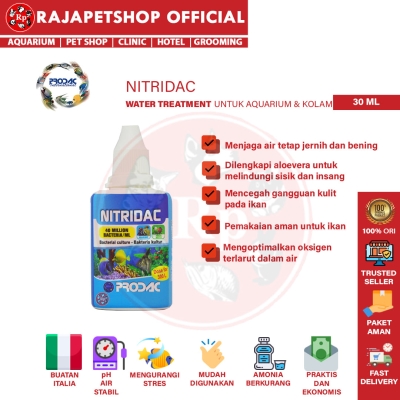 WATER TREATMENTS PRODAC NITRIDAC 30 ml
Rp. 50,000
WATER TREATMENTS PRODAC NITRIDAC 30 ml
Cairan Berisi Bakteri Non-Toxic (40 juta Bakteri per mili-liter), untuk menghilangkan unsur amonia yang sangat beracun dalam aquarium menjadi Nitrit, dan Nitrit menjadi Nitrat. Cocok digunakan untuk Aquarium air tawar dan air asin. Bisa digunakan untuk mempercepat degenerasi senyawa yang membentuk sedimen atau lumpur, serta mencegah pembentukan dan pertumbuhan ganggang pada aquarium anda. Produk ini dapat digunakan untuk Aquarium berkapasitas 300 liter.
Made in Italy
Dosis dan Penggunaan:
1 ml (1 strip tabung) untuk setiap 10 liter air
2,5ml (2 strip tabung) untuk setiap 25 liter air
4 ml (3 strip tabung) untuk setiap 40 liter air
Gunakan sekali hari selama 7 hari.
Kondisi ideal untuk pertumbuhan bakteri yang optimal adalah:
suhu air min. 5 ° C dan max 45 ° C
tingkat pH antara 6 dan 8,5.
Close well after use, store in a cool
place away from direct sunlight and keep out of
reach of children.
View Count: 1,099