SANTA & SAMOYED COMING TO TOWN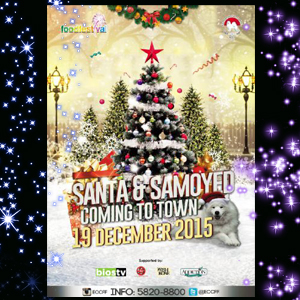 Hai Para Dog Lover Di Surabaya...
Yuk semua kumpul pada Acara Santa & Samoyed Coming To Town, acara ini di adakan oleh Klub Samoyed Indonesia (KSI) Jatim. Dan di dukung oleh Addiction dan Wishbone loo..
Acara di adakan di Food Festival Laguna East Coast, pada Hari Sabtu Tanggal 19 Desember 2015, Acara ini di mulai pukul 18.30 WIB.
Dapatkan Promo Menarik dari Addiction dan Wishbone, Hanya selama event berlangsung loo....
Jadi tunggu apalagi buruan datang dan ramaikan acaranya ya...
Terima Kasih..
Kembali ke halaman events